Kemi and Tornio are known as strong industrial regions, but there are notable industrial companies and extensive expertise to be found elsewhere in Lapland as well. Based in Rovaniemi, Norrhydro has become one of the top companies in Finland in the production of hydraulic cylinders, and is now gearing up to respond to growing demand with major investments.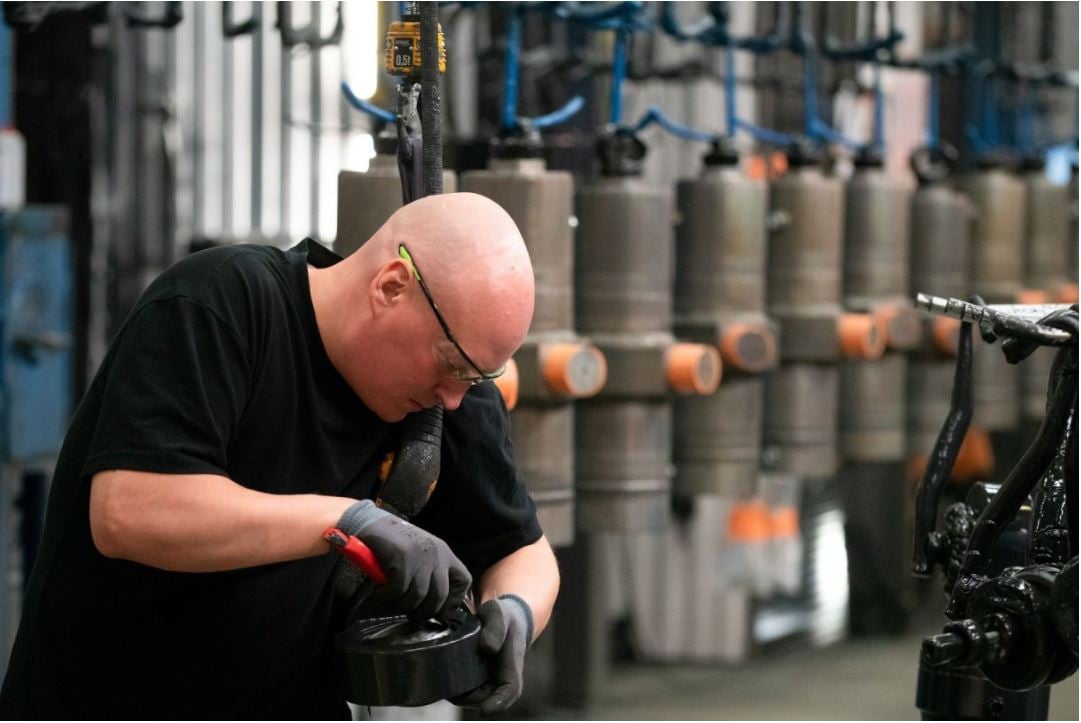 Rovaniemi-based Norrhydro is an industrial company that designs, manufactures and services hydraulic cylinders. Its head office and production facilities are located in Rovaniemi, in addition to which the company has product development and engineering offices in Tampere and Kuopio. The company has also established a subsidiary in Chicago in the United States, which is responsible for its sales in North and South America.
The company just turned 35 at the start of October 2020. In other words, Norrhydro has been accumulating top-class expertise in the design and manufacturing of hydraulic cylinders for quite a while. CEO Yrjö Trög also highlights the company's multi-faceted collaboration with its clients as a factor that has helped it to constantly develop its services and products.
Hydraulic cylinders of different sizes are used in mobile machinery in many different industries, including forestry, mining, the maritime industry, construction and material handling. The company's products are used in the machines of excavator manufacturer Volvo, forestry machinery manufacturer Ponsse and metal and mining industry company Sandvik, to name but a few.
– We are very proud of our client base. Many of our clients, such as Ponsse, Metso, Cargotec and Sandvik, are among the best companies in the world in their respective segments. Our operating model is based on long-standing partnerships with key clients, Trög describes. – We engage in broad cooperation with our clients, encompassing everything from product development onwards.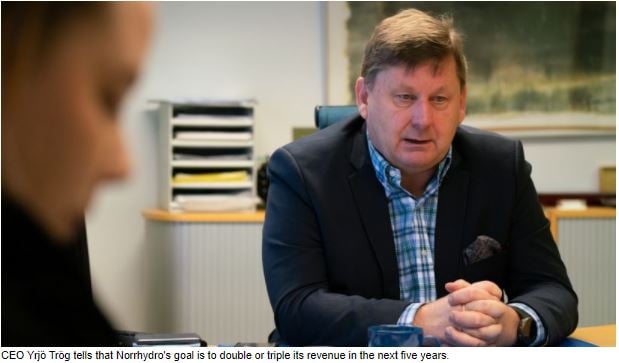 The company's offering has also been developed through active collaboration with universities. Together with Tampere University of Technology, Norrhydro designed the patented NorrDigi system, a multi-chamber hydraulic cylinder control system that facilitates the moving of loads. The culmination of approximately ten years of development, the innovative NorrDigi system is based on the ability to adjust the effective area of cylinders. The system will soon move from the pre-series phase to mass production.
The benefits of the NorrDigi system include increased energy efficiency and productivity and decreased fuel costs. The system has been proven to achieve fuel savings of 45–60% and improve the speed and productivity of hydraulically powered functions by 5–12%. The control system is made to order based on the client's application areas, in the same way as traditional cylinders. All in all, NorrDigi is a major innovation in the industry.
– Other similar products provide much smaller benefits than our product, Trög says.
Responding to growth with million-euro investments
Norrhydro's turnover has been steadily growing for the last ten years, totaling EUR 20.8 million last year. While demand for the company's products has been somewhat affected by the coronavirus pandemic this year, Norrhydro nevertheless aims to double or even triple its turnover over the next five years.
This positive outlook is backed by the fact that Norrhydro's corporate clients have also been successfully increasing their turnover, and the company has also been able to acquire new clients despite COVID-19. Having a broad pool of clients operating in many different industries is of benefit to Norrhydro, providing stability even as the economic cycles of individual industries fluctuate.
– We have been growing as a company and increasing our turnover every year for the past ten years. And I believe that we have the potential to keep on growing, Trög states.
The demand for Norrhydro's products is set to grow as a result of investments by new and growing clients in the coming years. Meanwhile the company is also developing new products that have significant growth potential.
– This growing demand of course means that we will need more production capacity as well. Our existing factory is already running at nearly full capacity, which is why we need to start increasing it in other ways. The company's management is currently working on some major investment plans related to this.
Norrhydro's original production facilities in Rovaniemi are starting to get too small for the growing company, which is supplying hydraulic cylinders to a growing pool of clients. As a result, the company is planning on building new productions facilities in Rovaniemi near the existing factory, which the company will share more information on at a later date.
The total investment amount, which includes the construction of a new factory and machinery costs, will be approximately EUR 20 million over four years. The CEO states that the biggest reason for investing in Rovaniemi is the area's employees, whom the company wants to keep in its service.
In Trög's opinion, Rovaniemi's advantage over the south as a business environment is the area's committed and dependable labor force. Having a stable workforce facilitates the everyday running of the company.
– Many of our employees have been with us for a long time. One of the last employees who had been with us since the company's founding just retired this spring, having worked at the company for nearly 35 years, the CEO says.
Lately, the company has also been hiring more young employees, as a result of which the average age of Norrhydro's employees is lower than that of most engineering shops. The company employs a total of approximately 130 people, of whom 120 work in Rovaniemi.
Operating this far north can also help companies better understand how important it is for their products to function in extreme conditions. Norrhydro's products are shipped to places with all kinds of weather conditions, from the freezing cold temperatures of Siberia to the sweltering heat of Brazilian rainforests.
– It is clear that we are particularly knowledgeable when it comes to cold conditions.
Tackling challenges with perseverance Lapland-style
The company's values include passion and empathy, excellence, integrity, creativity and perseverance. But how is creativity, for example, exhibited in the company?
– We have developed certain top products that have required a great deal of creativity and innovation, but it's not just about our products, it's also about the fact that we strive to constantly find creative new operating methods and models for doing things better and smarter.
In everyday work, the company's creativity is exhibited in things like each team having their own development board at the workplace, which every employee can use to share their views regarding things that should be developed, ensuring that issues that need improving are highlighted instead of only being discussed in the break room. In the CEO's opinion, Norrhydro's corporate culture is built based on the belief that new ideas should be boldly explored.
– We strive to learn something from everything that happens at the company and improve so that every day we are a little bit better than the day before.
The company's entire personnel was involved in defining the company's shared values. Perseverance was highlighted as a meaningful and important value by the production staff, in particular.
– We talk about perseverance Lapland-style. It's about pushing through no matter what and never giving up. Any challenges that we face are tackled head on, Trög says about the company's value base.
Norrhydro's plans for the future include major investments, growing production capacity and improving quality. In addition to these, the company also intends to increase its focus on sales and marketing.
– Our goal is to grow our production as a world-class manufacturer and become even better than we are now.
The company's other focus areas include developing its engineering expertise, digitalization and technologies.
– We will be transitioning increasingly into software development in the future as the importance of artificial intelligence in our products continues to grow.