We are happy to welcome Heidi Sederholm into our growing team as a new Quality Manager.
Ensuring the best possible quality to our partners is one of our goals and continuous development of the quality processes is something we consider a high priority.
Heidi has a background as an M.Sc. in Mechatronics and is currently enhancing her expertise with MBA studies through Aalto University Executive Education. Before joining the Norrhydro team she worked for KONE (since 2007) in R&D and in Global Supply Chain. Last 6 years she worked as a Quality Manager in the Finnish Supply Operations.
"I am interested in scaling processes and operations as the business grows. In other words, my aim is to support to grow the business with the help of LEAN and continuous process development", describes Heidi.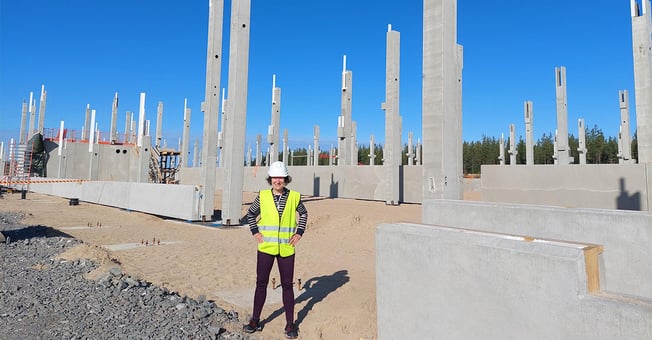 Heidi Sederholm at the front door of Norrhysro's upcoming production facility
Love for nature was one of the reasons that made Heidi to move near to the Arctic Circle. "My desire for adventure and living close to Lappish nature led me to Rovaniemi. The opportunities brought by the growth of Norrhydro evoked the interest towards working here. The company is at an interesting stage as a new production facility is being built to meet customer needs. I'm honored to join Norrhydro's great team of professionals," sums Heidi.