The ceremony was honoured by the presence of numerous authoritative guests including Matti Vanhanen, the Speaker of the Parliament of Finland, Ulla-Kirsikka Vainio, the Mayor of the city of Rovaniemi and representatives of Volvo Construction Equipment, the long-term partner of Norrhydro in developing the digital hydraulic system NorrDigi®.
Construction of Norrhydro's new production facility started in May 2021 and was completed in August 2022. The whole production of the company is now in the new premises.
Lehto Toimitilat was in charge of the construction of Norrhydro's new production facility and OP-Kiinteistösijoitus Oy is the main partner for the project funding.
The ceremony was opened by the Chairman of the Board, Mr. Yrjö Trög. Not only the new production facility but also the traditional and highly prestigious National Entrepreneur Award that was presented to Norrhydro in October 2022 were good reasons to celebrate together with all important stakeholders and the company's employees.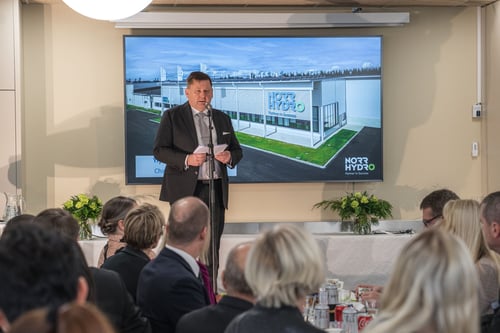 Long-term partnership with Volvo Construction Equipment
Philippe Henriette, CFO & SVP of Business Development from Volvo CE praised the importance of environmentally friendly solutions for mobile machinery in his speech. Volvo CE has taken the leadership role in their industry towards a more productive and sustainable world and emphasised the expectations to their suppliers: to build up a sustainable product portfolio. Volvo CE and Norrhydro share similar ambitions and have both a true passion to build a better world - this has been a good basis for close cooperation for almost a decade now.

A sneak peek into the production
Guests visited the production and got a glimpse of how the world's best cylinders are manufactured.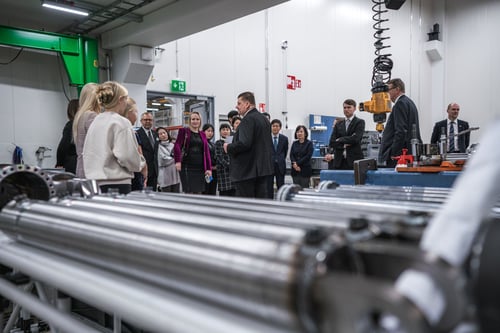 The ribbon-cutting ceremony took place right in front of a significant investment; a friction welding machine. Thereafter Mr. Vanhanen, the Speaker of the Parliament of Finland, had the honour to start the friction welding machine for a short work sample.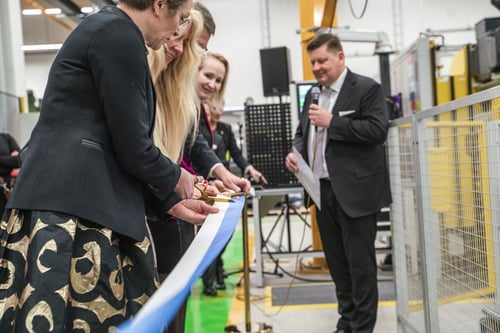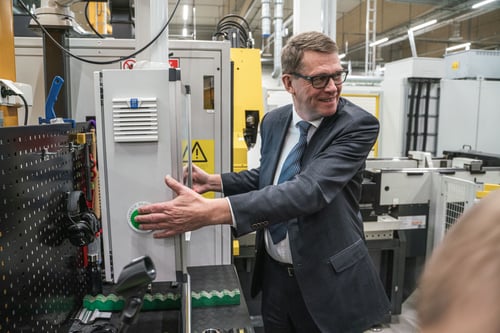 Hydraulic quality and cleanliness will be further improved at the new production facility
The new production facility will support the innovation of the company's digital solutions, in addition to the current high-end hydraulic cylinder production, which is also under continuous development.
Quality, cleanliness and product flow are ensured by multiple investments in the latest technology, automation and fine-tuning of production processes.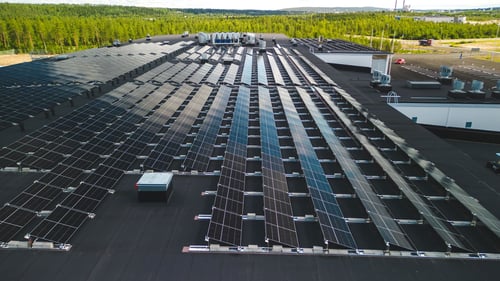 Environmental and sustainability issues have been taken to the next level
Environmental aspects have been taken into account carefully since the very first design phase, also some pioneering solutions have been considered to reduce the environmental impact of production.
Good examples of these actions are for example 1000 solar panels installed on the roof of the new production facility as well as the recovery and re-use of the waste heat generated from the production.