NorrDigiTM –


The

energy-efficient

future

of

hydraulics



The NorrDigiTM system is based on our proven multi-chamber hydraulic cylinders and our patented control system. The combination of chambers allows the system to use the smallest possible area to move the load. Conventional cylinders have two chambers and can accomplish four different area combinations, which is far too crude for smooth operation. The NorrDigiTM system creates 16 area combinations and the effect is a variable displacement cylinder. This is possible thanks to the advanced patented control system, which makes the shifting between the steps as smooth as the automatic transmission in your car! A few of the main benefits of the NorrDigiTM digital hydraulics system are:
It's using less flow than a conventional system

Functions can share energy through the common pressure rail

Excess energy can be stored in accumulators (or batteries) for later use
The system is particularly efficient in applications with high inertia loads, both linear and rotary, such as lowering or braking. The results are extraordinary. Fuel efficiency improvements by 45-60% and productivity increase by up to 12% were achieved in side-by-side tests with professional operators!
The benefits of NorrDigiTM are many. The system is using less energy, which means that the prime mover (engine, battery or electric motor) can be down-sized. For electric vehicles, it means significantly longer service time between charges. For vehicles with engines, the engine is running in the sweet spot, which has a significant impact on both noise and emissions.
NorrDigiTM is using less flow, which means that hydraulic pumps can be downsized. The system can share energy between functions, which means that the prime mover doesn't need to run continuously (engine-off). It can recover and store energy with up to 80% efficiency! The system generates less heat, which means that the hydraulic cooler may be down-sized or possibly eliminated! The feed-back from the accumulators controls the power utilization on the vehicle and optimizes the performance.
In short, it's a system for today and for the future!
The NorrDigiTM system is an integration of cylinders, valves, sensors and electronics, which reduces the installation time and allows for downsizing of many of the major components, keeping the total cost of the machine in balance.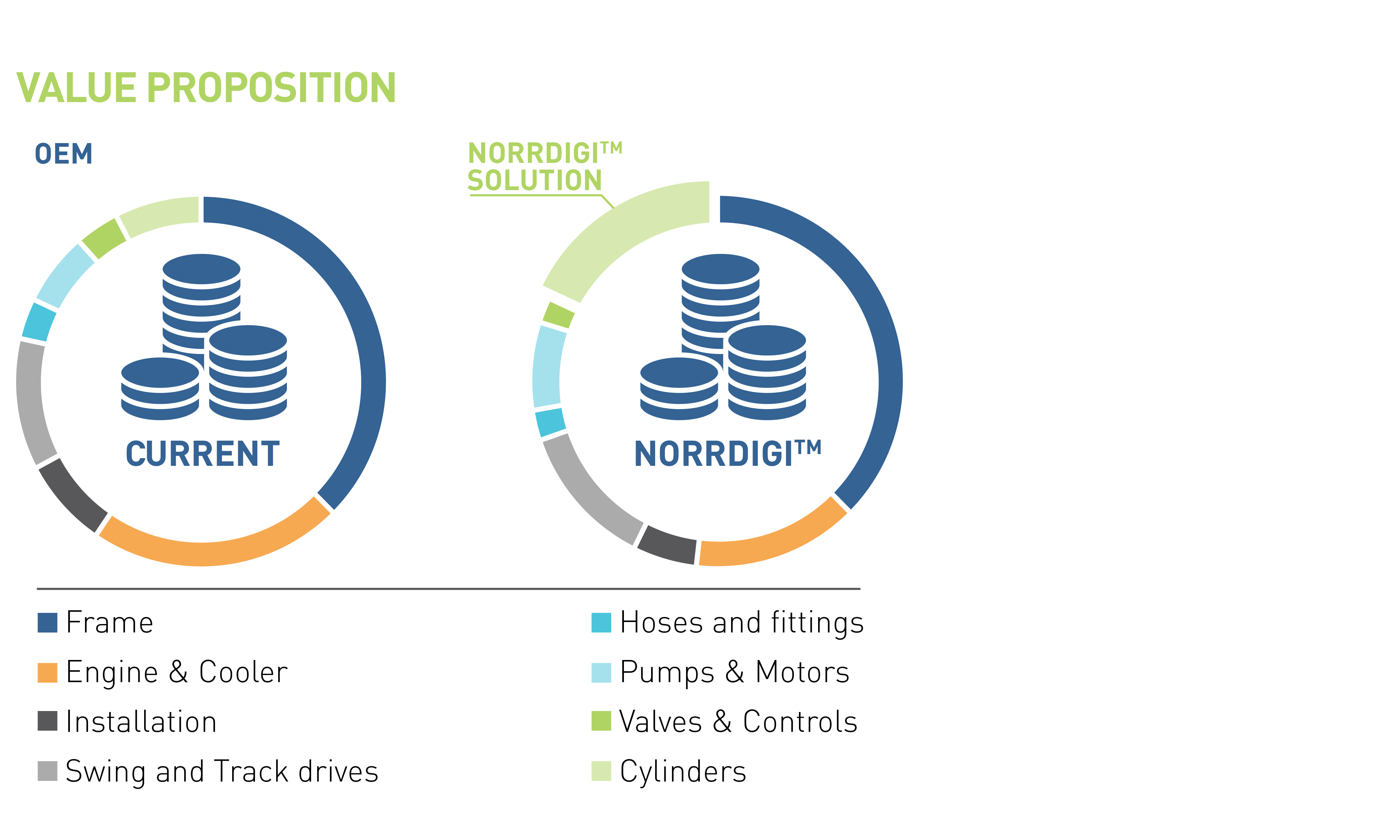 NorrDigiTM application areas include:
Earth moving machines
Material handling machines
Offshore and marine applications
Mining machines
Military applications
and many more.